Penang is a fun, beautiful island full of events, interesting characters and culture. But in terms of beaches — and getting that feeling of "tropical bliss" — nearby Langkawi island in Kedah is a much better option. But how to get from Penang to Langkawi?
This post will solve all of your planning questions for a trip from Penang to Langkawi.
Penang to Langkawi: distance
The distance between Penang and Langkawi is 108km as the crow flies. Langkawi is in the state of Kedah, and it's also a jump-off point for the islands of Southern Thailand: either the gateway town of Satun or the famous tourist island of Koh Lipe.
RELATED: How to do a Visa Run between Penang and Thailand
Penang to Langkawi by ferry
Penang and Langkawi are conveniently connected by a direct ferry. It leaves from the Swettenham Pier, or Cruise Ship Terminal, on the north-easternmost corner of Penang island, and in walking distance from the northern end of Beach Street in George Town.
There are two daily departures from Penang to Langkawi.
They leave at 8.30 am and 2 pm. The cost of a one-way ticket is RM70.
Most guesthouses and hotels can reserve your Penang to Langkawi ferry tickets, sometimes for a little extra fee. You can otherwise just walk to the Swettenham Pier yourself: along the road leading to the port, there are several travel agents selling the tickets for RM70/one way.
It's highly advised that you buy your ticket at least one day before.
You don't need to buy a return ticket, as it's easy to do so in Langkawi. But if you know when/where you will be returning to Penang (or leaving Langkawi to go elsewhere), many agencies sell return packages.
Children under 12 have a 50% discount.
Penang to Langkawi ferry review
The trip lasts about 3 hours, and the ferries are air-conditioned and fairly clean. It's not a very scenic trip, to be honest, especially because passengers are forbidden from going on the top of the deck.
Bring a sweater or a jacket, as the cabin can get very cold. In general, there are TVs broadcasting movies during each trip, so you will have something to do. Bring a book anyhow, since many of the movies are only in the Malay language.
Ferries are mid-sized and not always full. They have multiple rows of seats, which are numbered. Make sure to check your seat number before you seat. Toilets are overall well maintained, but when the sea's choppy, even boys better sit down 🙂
How to get from George Town to Langkawi
Depending on where your hotel is located, you should head towards Little India in George Town and then arrive on Beach Street. Walk all the way to its northern end. Once you see the Queen Victoria Memorial Clocktower, take the third roundabout exit, exactly to your right, and walk towards the end of the road. The entrance to the Swettenham Pier and the departure point for Langkawi-bound ferries is there, on the corner.
Penang to Langkawi by car
With a car, it's possible to drive very close to Langkawi, and then take a ferry from there, at a fraction of the price of a Penang to Langkawi direct ferry ticket. Also, there are many more departures (up to 12 hourly boats) every day.
Besides Penang, there are two other main ports servicing Langkawi: Kuala Kedah, in Kedah state, and not too far from its enticing capital of Alor Setar. And Kuala Perlis, a small seaside municipality in the state of Perlis.
To reach both towns, drive out of Penang on the First Penang Bridge, and enter the NSE Expressway (E1) towards Alor Setar/Bukit Kayu Hitam. It's about an hour and a half drive to Kuala Kedah, and about two hours to Kuala Perlis.
Remember: you must have a Touch & Go card, or you won't be able to pay highway tolls in cash at any highway turnpike. If you don't have one, you can still ride the old road via Sungai Petani, but it will take at least double the time it'd take using the E1.
Both towns are small and revolve around their own jetties to Langkawi, so you won't certainly get lost. There are guarded parking lots where you can leave your vehicle safely while on Langkawi: they cost between RM10 and RM15 per day.
PARKING TIP: don't listen to the guys on motorbikes who will inevitably approach your car, suggesting you follow them to their "great, secure parking spots". Based on personal experience, these people are not dangerous or scammy, but most often are there to sell you a more expensive, private parking. It's much better to stick to the public parking manned by security guards. You can't go wrong: they have a guard always on standby and are full of parked cars.
In both Kuala Kedah and Kuala Perlis, ferries to Langkawi leave every 45 minutes/1 hour and run from 7 am until 6 or 7 pm.
A one way trip from Kuala Kedah to Langkawi is RM23.
A one way trip from Kuala Perlis to Langkawi is RM18.
If you arrive late, there are several mid-range hotels near the ferry terminal, especially in Kuala Perlis. Expect to pay around RM40/50 per night for a simple double room.
Penang to Langkawi by Bus
From Penang, it's better to cross the Straits Sea with the free ferry to Butterworth. Get off the ferry, take the free shuttle bus to Butterworth bus station, and then change to a Kuala Perlis-bound bus. This is absolutely the easiest way to get from Butterworth to Langkawi.
A bus ticket from Penang/Butterworth to Kuala Perlis costs less than RM20 with most companies, shop around, and make sure to arrive between 4 pm and 5 pm, or you'll risk spending the night in Kuala Perlis.
BUS TO LANGKAWI TIP: If you are traveling to Langkawi by bus from other cities in Malaysia, it's better to go to Kuala Perlis than Kuala Kedah.
There are many more connections between Kuala Perlis and most cities in Malaysia. Most important, Kuala Perlis' long-distance bus terminal is within walking distance from Langkawi's ferry terminal. Kuala Kedah's is not… you need a Grab Car from Alor Setar.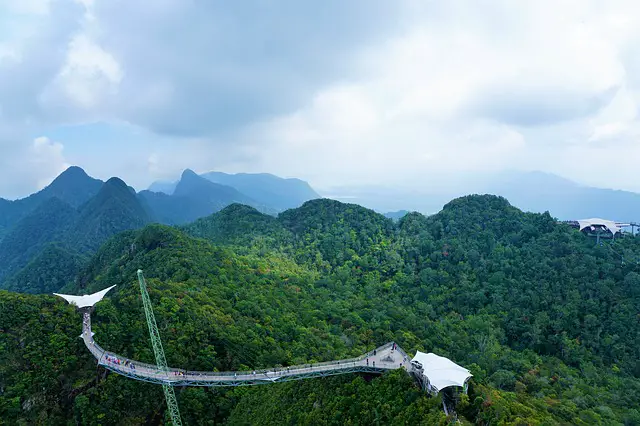 Penang to Langkawi by flight
There are many cheap flights between Penang and Langkawi, usually operated by AirAsia or Fireflyz. They take only 35 minutes and cost around RM60 – even less than the 3-hour ferry ride. If you are booking a future trip to Langkawi, it pays to start looking for flights as early as possible, as you may even be able to find a Penang to Langkawi flight ticket for a ridiculous RM30/40.
RELATED: Ultimate Guide to Penang Airport and Cheap Flights from Penang
The only problem with arriving at Langkawi airport is that you may have trouble renting a car or a motorbike on the spot. Fear not, however, because, with Grab or a Taxi, a ride to nearby Pantai Cenang should cost you between RM 15/20.
RELATED: Guide to Using Grab in Penang
Arriving at Langkawi Ferry terminal
Langkawi Ferry terminal is nowhere near the famous beach of Pantai Cenang but is in Kuah Town, Langkawi's main settlement on the southeastern coast.
This is where all ferries to Penang, Kuala Kedah, Kuala Perlis, and Thailand, arrive and depart from. A taxi ride to Pantai Cenang costs around RM25.
LANGKAWI ARRIVAL TIPS: It really depends what you have come to Langkawi for, but if you want to explore, the best is to rent either a motorbike or your own car. Both can be rented by many touts and from any of the ticket selling booths outside Langkawi Ferry Port's main gate. Just check the bike before you set off, take pictures of all eventual scratches/malfunctions with your phone (or be prepared to argue later), and bargain hard. A good price for an automatic scooter is RM35/day.
Consider that rental cars can cost as low as RM60/50 per day — yes, supply generally outstrips demand unless you travel to Langkawi on a weekend or a public holiday — so groups of more than three people may want to opt directly for a car.
REMEMBER: bargain as there's no tomorrow. There's always another tout waiting for you around the corner… actually, most will "attack you" as soon as you pass through the terminal doors. Be polite, firm, and get your wheels: it's so much more practical than hailing cabs or Grab cars while in Langkawi.
---
And if you liked this, why don't you sign up for our mailing list? We will send you immediately a FREE photographic eBook with some incredible pictures of Penang, and we promise, we will disturb you only about once a month with some good local advice you won't find on the site